Healthcare in St. George
In Washington County, where the population is 140,000+, the availability of health care is more than adequate and the quality surprisingly high. Because Utah's Dixie is less than a day's drive from the sprawling hospitals of urban centers such as Salt Lake City, Las Vegas and Los Angeles, the demand here didn't intensify until the population explosion of the last 10 years. Today, the St. George area has well-equipped facilities with physicians trained in most of the standard specialties.

Dixie Regional Medical Center
River Road Campus – 1380 East Medical Center Drive, St. George, 84790
400 East Campus – 544 South 400 East, St. George, 84770
www.ihc.com
As Washington County's rapid growth continues to keep the region on the country's list of fastest growing counties, healthcare professionals at Dixie Regional Medical Center remain hard at work. "Our goal is to sustain a world-class organization where patients will receive excellent care, where our employees will be proud to work, and where our physicians will feel confident in giving medical care," says Terri Kane, hospital administrator.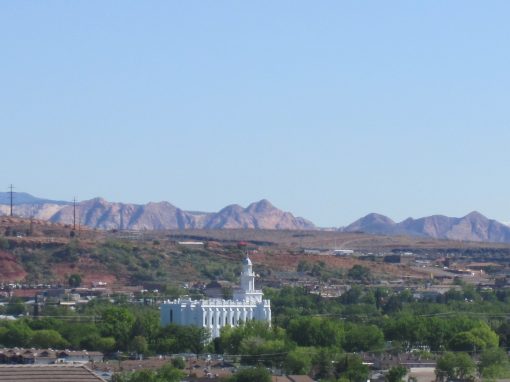 Dixie Regional Medical Center is one of 20 charitable, nonprofit hospitals owned and operated by Intermountain Healthcare. Intermountain's mission is to provide excellent healthcare, regardless of ability to pay. Verispan, an independent research firm, has ranked Intermountain the number one integrated health care system in the nation five of the past seven years. (The other two years the company ranked 2nd.)
Dixie Regional is a 245-bed hospital on two campuses in St. George; one on River Road and one at 400 East. In addition to tertiary level services like open-heart surgery and newborn intensive care, available services include the Huntsman-Intermountain Cancer Center, women's and children's services, the Dixie Joint Center, emergency department, acute rehabilitation, hyperbaric medicine, bariatrics, behavioral medicine, outpatient services and more. Brain and complex spinal surgeries, pediatric intensive care and some other subspecialties are planned to be added over the next decade as regional growth continues.
Heart Services
Earlier this year a $2 million gift from the Sorenson Legacy Foundation laid the groundwork for future advancement of cardiovascular care. The gift makes several innovations possible including electrophysiology, which maps the heart's electrical impulses so irregularities may be corrected. An advanced heart failure clinic is also under way. "We will become a satellite of the Utah Artificial Heart Program providing interim life-saving care for patients awaiting heart transplants," Kane says, "and we recently opened our second cardiovascular operating room." Dixie's open-heart surgery program and other cardiovascular programs earned distinctive designation as a United Premium Cardiac Specialty Center before the services were even a year old and continue to receive top rankings in cost and quality.
Newborn Intensive Care Unit
Last year the first tiny patients were admitted as the region's only newborn intensive care unit opened at Dixie's 400 East Campus. The entire women's and children's center was renovated to accommodate advanced programs that support the delivery of preemies like perinatology, antenatal care for mothers and the NICU.
Huntsman-Intermountain Cancer Center
Dixie's cancer center located on the 400 East Campus was remodeled late in 2005 and rededicated as Utah's second Huntsman-Intermountain Cancer Center. The center features state-of-the-art treatments, including a RESEP Clinic (for "downwinders" – those who lived downwind of the atomic testing which took place in the 1950s and early 60s.
Several Intermountain construction projects are scheduled to break ground in the near future. Construction on a primary care clinic and InstaCare in the Sunset Boulevard area will also begin late in 2006, followed by construction of a new facility in Hurricane. The Hurricane Clinic will feature sophisticated imaging equipment including mammography, lab services, space for visiting specialists from St. George, room for rehabilitation and some other services.
The Dixie State College Health Sciences Building will also break ground on the northeast corner of the River Road Campus before the end of 2006 and represents a partnership between the college, Intermountain Healthcare, and the Foremaster family. The building will be named the Russell Taylor Health Sciences Building in honor of a generous donation from that family. "President Lee Caldwell — and prior to him President Bob Huddleston — and the DSC faculty have pushed very hard for this building and for many health science programs fundamental to our staffing," says Kane. "Because of this collaboration we now have programs for the education of nurses (from aid certification to bachelor's degree), phlebotomists, respiratory therapists, imaging techs and surgical techs."
Strong emphasis is also placed on prevention and wellness programs through the new Dixie Fitness Institute, hospital-sponsored health fairs, educational seminars and other community partnerships and outreach efforts. Dixie Regional is the largest private employer in Washington County with more than 2,200 employees.
Additional Medical Facilities & Clinics
Coral Desert Imaging Center
435-986-2238
1490 East Foremaster Drive, Bldg #C, St. George 84790
Coral Desert Imaging Center provides physicians and the community the most advanced diagnostic imaging techniques currently available in the healthcare industry. With an award-winning, open-air design that is completely open on all four sides, the Hitachi Altaire MRI system provides great patient comfort during the exam. This technology helps to minimize claustrophobic effects and reduce patient anxiety. It also allows patients to have a family member or friend close by during the examination. All of their technologists are registered and certified.
Coral Desert Surgery Center
435-674-5230
1490 Foremaster Drive, Bldg # C, St. George www.coraldesertsurgery.com
The Coral Desert Surgery Center takes pride in providing outpatient surgical services in the following areas: ear, nose and throat, endoscopy, gastrointestinal, general surgery, gynecologic procedures, laser surgery, ophthalmology, orthopedic surgery, plastic surgery, podiatry and urology. Highly trained staff provides high quality, compassionate care in a safe, convenient and cost-effective environment.
The Doctors' Free Clinic
435-656-0022
1036 E. Riverside Drive, St. George 84790
The Doctors' Free Clinic provides medical care at no cost to citizens who cannot pay. Various local agencies and organizations support the clinic. It is said that true greatness of a community can be measured by its kindness to those who are the least fortunate within it.
Phase II, Center for Women's Health
435-674-0196
272 E. Center Street, Ivins
www.phasetwo.yourmd.com
Phase II, Center for Women's Health focuses on women's health issues after a woman has completed childbirth. Many treatments are available for incontinence once a cause has been properly identified. They provide extensive information regarding perimenopausal and menopausal hormone replacement, including dioidentical hormones. New treatment options are available for heavy and/or irregular bleeding. Finally, they have expertise in pelvic surgery.
Red Cliffs Family Medicine
435-673-3521
162 East 300 S. St. George
www.redcliffsrehab.com
Red Cliffs Family Medicine's goal is to provide low cost quality health care to its patients. Their focus is not on just fixing the problem, but on helping the patient achieve a healthier lifestyle, by informing the patient about wellness behaviors that are essential to a healthier lifestyle and a renewed state of mind.
Snow Canyon Clinic
435-656-4477
272 E. Center Street, Ivins
www.snowcanyonclinic.com
Snow Canyon Clinic is a multi-specialty clinic, providing a wide range of medical services from routine care in their family practice, internal medicine and dental clinics, to specialty evaluation, diagnosis and treatment in their cardiology, pulmonary medicine, neurology, sleep disorders, cancer, infusion, podiatry and uro-gynecology clinics. Their imaging center features the most technically advanced 3D MRI, CT, PET and ultra-sound scanning systems. Snow Canyon Clinic is committed to quality care.
St. George Surgical Center
435-673-8080
676 S. Bluff Street, St. George
www.sgsc.net
St. George Surgical Center is a nationally accredited multi-specialty ambulatory surgical center that provides overnight observation, surgical support services for all surgical specialties and is utilized by most surgeons in the county. The St. George Surgical Center also features 3 full-time physicians: Dr. Jason Hendrix (St. George Eye Center) is an Ophthamologist who provides state-of-the art examinations and treatments of vision and the eye; Dr. Alexey Ryskin, board Certified in Anesthesia and fellowship trained in Pain Management is a physician who provides a variety of methods, full time, to relieve patients of their chronic pain; Dr. Oleg Serbine, also Board Certified in Anesthesiology, works full time administering anesthesia and assists Dr. Ryskin in administering relief to chronic pain patients in the St. George Pain Mangement Center. Friendly staff, along with modern equipment, makes this the choice for lower cost, high quality and personable same-day surgical service.

Southwest Utah Comm. Health Center
435-986-2565
168 North 100 East, St. George
www.swuchc.com
The Southwest Utah Community Health Center provides primary health care services to approximately 5,000 people every year in 13,000 patient visits. They want to be your medical home! The full time staff includes one physician (soon to be two), three physician assistants, a clinical social worker and an Americorps member. The medical providers, front desk staff and four of five medical assistants are fluent in English and Spanish. The Health Center takes private health insurance, Medicaid, Medicare and offers a sliding fee scale to uninsured patients. Prenatal and delivery services are also offered. Reduced price prescription medications are available to patients. Appointments are needed and can be made by calling 986-2565. Appointments are usually for same day or next day visits. If you own a small business or do not have health insurance, they can work with you on affordable, high quality healthcare services.
Home health care
Home health is an important part of the Health care continuum. It is a cost effective alternative to transition from hospital and nursing home care. Home health care is delivered in the person's home providing services needed because of an acute illness, long-term health conditions, permanent disability or terminal illness.
Home Health Services Provided
These services include skilled nursing, home health aids, physical therapy, speech therapy, occupational therapy, respiratory therapy, dietary consultation and social work. Payment for these services are provided by Medicare, Medicaid, state and local governments, private insurance, or private out-of-pocket depending on the individual's circumstances and eligibility.
A person can request home health services through their physician, discharge planners at the hospital or nursing home, or directly through the Home Care Agency.
Contributed material by Applegate Home Care, 435-628-1569. For a complete listing, see "Home Health Care and Hospice" in the business resource directory.
More Southern Utah Resources
Contact Your St. George Realtor® Today!